Classroom To Careers Expo September 29
The Boys & Girls Club has gathered an extensive panel of industry and business leaders to plan and present the East Linn County Classroom to Careers Expo.  The event is being designed to provide Lebanon and Sweet Home middle school and high school students with hands on exposure to important local industries such as construction, trucking, railroad, domestic and heavy construction, machine operation, manufacturing, and more.
 
Over 30 exhibits are being planned including five virtual reality simulators, and opportunities to get real experience operating heavy equipment, welders, and more.  A list of exhibits and participating industries and organizations is posted at www.bgcgreatersantiam.org.  If you'd like to get involved contact Kris Latimer at kris@bgcgreatersantiam.org.  
 
Classroom to Careers Expo will be open to the public from 3:00 p.m. – 6:00 p.m. on the 29th and will be located in and around the Santiam Travel Station (train depot).
Thank You to our Sponsors!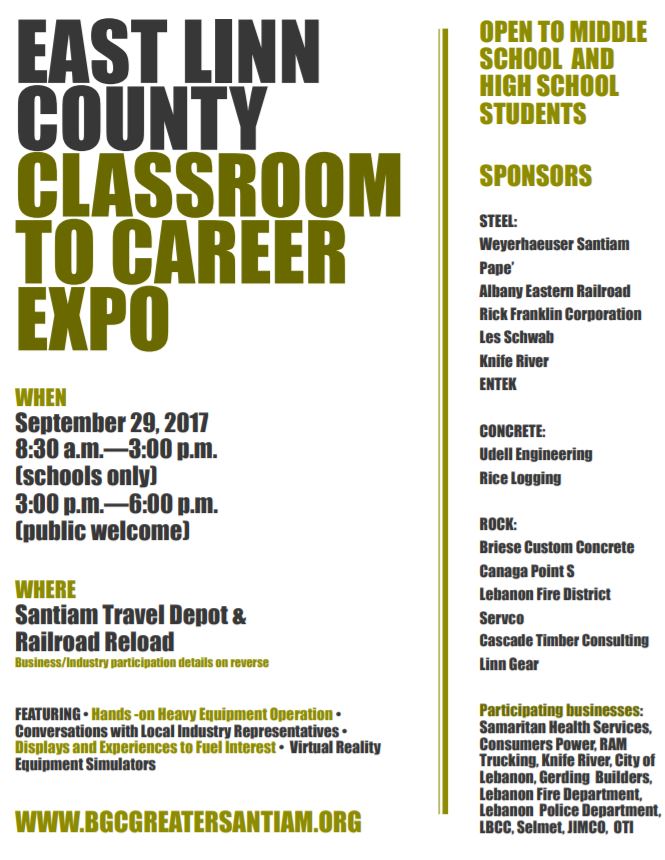 Sponsorship Opportunities Below