The Vault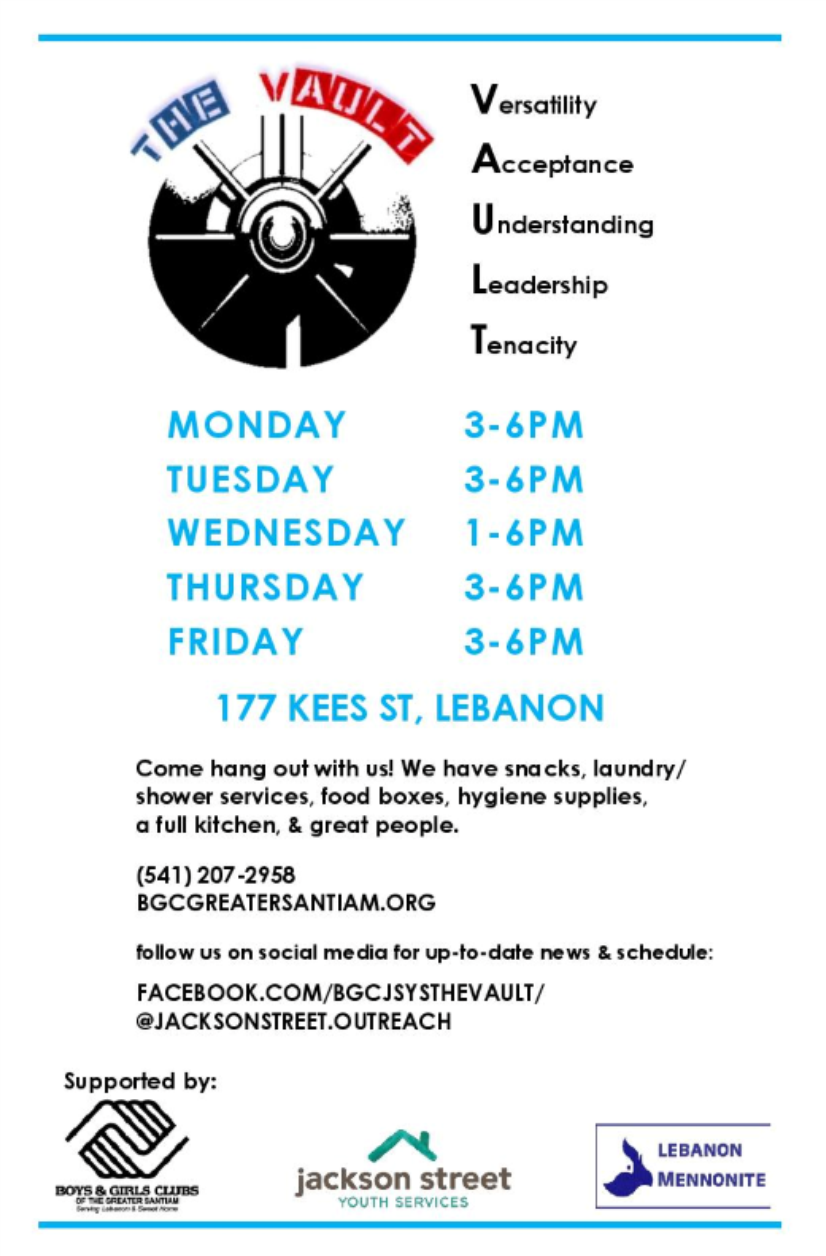 The Vault is our high school after school program in Lebanon. Located at 177 Kees Street and open Monday-Friday after school until 6:30 pm.
The V.A.U.L.T. stands for:
VERSATILITY
ACCEPTANCE
UNDERSTANDING
LEADERSHIP
TENACITY
What we do:
Thrive Keystone Club: Keystone is a club by teens, for teens. With the help of an advisor, members learn the proper service and leadership skills to grow in these four focus areas: community service, academic success, career preparation, and teen outreach. Once a month, members will plan and host an event called #WeOwnFridays.
Girls Circle: Jackson Street Youth Services facilitates a weekly group where young ladies can come to talk about real-life issues, and to  further develop their strengths, courage, confidence, honesty, communication skills, and personal connections.
Boys Council: Jackson Street Youth Services facilitates a weekly group where young men gain the vital opportunity to address masculine definitions and behaviors and build their capacities to find their innate value and create good lives - individually and collectively!
Food and a Movie: Every week, on Wednesdays, youth learn how to bake and cook healthy snacks. Members learn the workings of the kitchen, proper measurement and weight ratios, how to properly operate the oven, and the importance of safety in the kitchen. When the youth are finished baking/cooking, they get to sit down together and enjoy it while watching a movie on the big screen.
Power (Half) Hour: Interactive, after-school homework assistance program for youth, designed to encourage young people to view homework as an opportunity to learn to work independently, successfully complete projects on time, and feel positive about their school accomplishments.
 
Our Staff:
Director of Program Operations: Tyler Reece
High School Coordinator: April Hall-Biles
Youth Development Professionals: All of our activities are planned and facilitated by trained Youth Development Professionals.
For more information, contact April Hall-Biles at april@bgcgreatersantiam.org